Historical background
Hampi, on the south bank of the Tungabhadra River, has been a sacred site since c. the 8th-9th century. Its main temple, dedicated to Virupaksha, an aspect of Shiva, was a major centre of religious activity well before the Vijayanagara period  (14th to 16th centuries) and continues to be an important pilgrimage place.
Read more
The temple was enlarged and refurbished at various points in time. One of the most noteworthy additions is the open pillared hall abutting the sanctuary and its antechambers. Built in 1509/10 by the emperor Krishnadevaraya (r. 1509-1529) to celebrate his coronation, its ceiling is adorned by a set of carefully laid out paintings organised in eight registers. The central part displays two crucial episodes of the Shaiva lore: Shiva as Tripurantaka, destroying the three aerial cities of the asuras, and Shiva as Kamadahana, incinerating with his glance the god of love, Kama, who dared to disturb his meditation. This incident is particularly important, as it is deemed to have taken place on Hemakuta Hill, in the immediate proximity of the temple.
Further mythological themes are: the wedding of Shiva and Parvati, Rama winning Sita's hand at the archery competition; their wedding; and Arjuna winning Draupadi's hand by hitting the revolving fish target. Vishnu's ten avataras, the eight guardians of the directions and three large panels depicting Brahma, Shiva and Vishnu with their consorts grace the western end of the hall. A large, faded panel on the easternmost beam supporting the ceiling depicts the epic battle between Arjuna against the Trigartas and Kauravas, who stole the cattle of King Virata, an episode drawn from the Virata Parva of the Mahabharata. The seventh and eight registers depict battle scenes and the procession of the Vidyaranya, the pontiff, arriving at the shrine of Virupaksha. A set of medallions, displaying various themes, decorate the south, west, and north beams supporting the ceiling.
Until recently the general consensus was that the paintings were coeval with the mandapa. However, the details of the costumes, turbans and weapons appearing in the seventh and eight registers have been crucial for reassessing the date of the murals. The soldiers' jackets display a pattern strongly reminiscent of the tiger stripes pattern popular at the time of Tipu Sultan. The palanquin in which the Vidyaranya is carried is very similar to those in fashion in the early 19th century. These elements alone would date the paintings between the close of the 18th century and the early decades of the 19th. Furthermore, in the seventh register, groups of soldiers carry muskets with bayonets: this detail rules out a date before the end of the 18th century. The limited palette and the conspicuous absence of European pigments  suggest a  date between 1830 and 1840, the period in which the temple was refurbished by order of the then District Collector, Mr. F.W. Robertson. It is thus probable that it is that the paintings were executed at that time.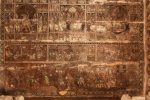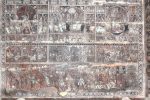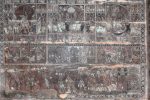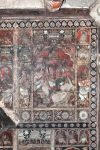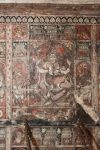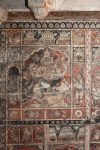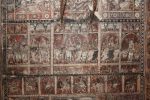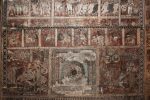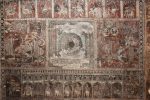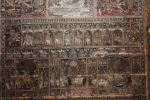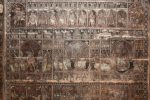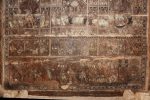 1
2
3
4
Next »