Thanjavur Brihadishvara complex west and north colonnade
Historical background
The Brihadishvara temple, built on orders of Rajaraja Chola (r.c. 985 – c. 1014 CE), was consecrated in 1010. After the 11th century, the temple continued to be the focus of devotion and subsidiary shrines dedicated to various deities were erected within its precincts.
Read more
At the close of the 14th century, Thanjavur became part of the Vijayanagara Empire and only after the fall of the capital city in 1565, the Thanjavur Nayakas declared their independence maintaining Thanjavur as their headquarters. They fortified the city and erected a number of shrines within the temple precincts, the most famous being the one dedicated to Subrahmanya (16th cent.).
In 1674, Ekoji Bhonsle, half-brother of the famous Shivaji, conquered Thanjavur, thus establishing the rule of a southern branch of the Marathas. During the following two centuries the Brihadishvara temple was affected by the unsettled political situation in South India and the Thanjavur kingdom. A momentous event was the occupation of the temple by an English garrison from 1771 to 1798. The worship in the temple was discontinued and the walls, paving stones, buildings and sculptures were damaged.
When Serfoji II (r. 1798-1832) ascended the throne, under the supervision of the East India Company, the English left the temple and the king initiated a series of refurbishments and it became again a great religious centre. He built the Ganapati shrine, whose porch walls are embellished with large-scale murals now very faded.  Further murals of the Maratha period are to be seen on the ceiling of the mandapa of the Brihannayaki shrine, the consort-goddess of Brihadishvara. The themes illustrated are: the story of Daksha's sacrifice on the west aisle; the Devimahatmya (Glorification of the Great Goddess) on the central aisle; the story of the sage Markandeya, and possibly another narrative, in the eastern aisle, now used as an office.
Probably executed during the reign of Shivaji II (1832-55) are the sets of paintings on the wall of the west and the north colonnades skirting the spacious prakara. The murals depict deities and the complete Tiruvilayadal Puranam, the 'The Story of the Sacred Games' i.e. the 64 'sports of Shiva' at Madurai. The latter are damaged and in a sad state of conservation. The bilingual inscription, in English and in Tamil at the end of the set, probably recording its commission, is now too faded to be read.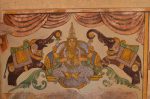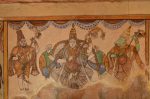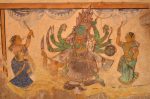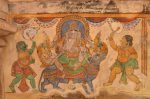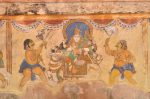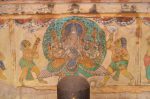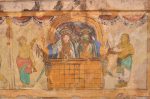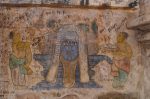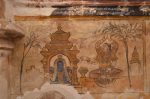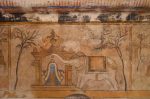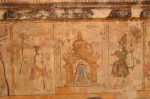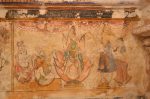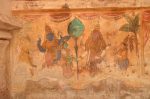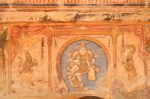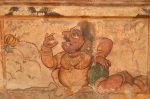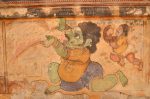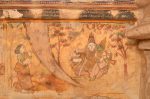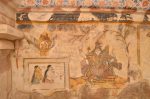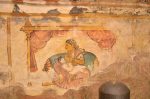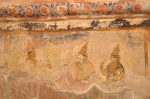 1
2
3
4
Next »