Historical background
Sited between Kumbakonam and Swamimalai, Tiruvalanjuli (Tiruvalanchuzhi) is one of the numerous villages located among the lush coconut groves and paddy fields of the Kaveri Delta. Here, the river bends to the right, hence the name 'Valanchuli'.
Read more
Although the main temple is dedicated to Kapardishvara – a form of Shiva- the most popular shrine in this complex is that of Sveta Vinayaka, the 'White Vinayaka'. It is said that the image was fashioned out of the foam originating from the Churning of the Milky Sea. 
In a separate compound, to the south west of the main temple, is the shrine of the consort goddess, Periyanayaki, also known as Brihannayaki.
Though inscriptions of the later Chola period are found on the walls of the Sveta Vinayaka temple, the complex was expanded to its present dimensions in the 16th century, during the Vijayanagara period. Further refurbishments, e.g. in the Periyanayaki shrine, were undertaken during the Maratha period.
The temple was famous for its magnificent 16th century paintings, now no longer extant, which depicted incidents from the Shaiva mythology. Fragments of 18th century paintings are on the ceiling of the prakara of the Periyanayaki shrine. Most of them depict textile patterns, however, a sizeable portion of the ceiling in the north corridor is occupied by the rendering of the legend relating the origin of the Kaveri River and of all the shrines along its course from its source to Pumpuhar, where the river flows into the Bay of Bengal.
It is said that the Kaveri River was contained in Agastya's kamandalu (water vessel).  While the sage was meditating, Vinayaka (Ganesha), took the shape of a crow and perched on the spout of the vessel. Agastya then shooed it away, the crow toppled the kamandalu from which the Kaveri started flowing. The crow flew away and at its place was a stood a small boy. Agastya thought that the boy was up to some mischief and clenching both fists wanted to pound his head. The boy escaped and Agastya run after him. Eventually he disappeared and Ganesha appeared in his place. The sage then realized that he had tried to pound the god's head and, in order to atone for his sin he knocked his own head with both of his clenched fists.
The murals on the exterior of the sanctuary of the Periyanayaki shrine, depicting Shiva as Ardhanarishvara, Periyanayaki and a number of other goddesses, date probably of the beginning of the 20th century.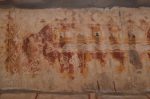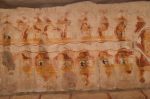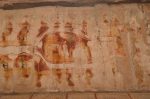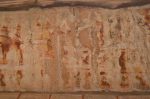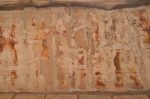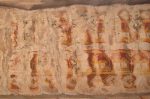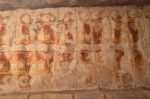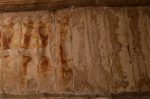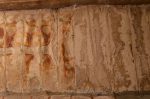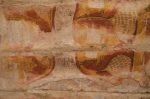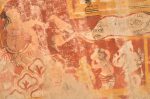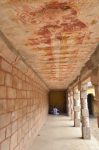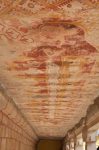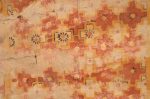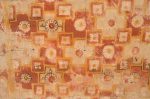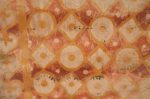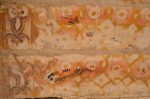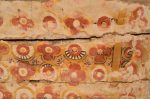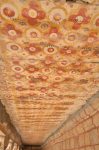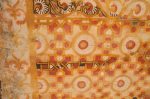 1
2
3
4
Next »