Historical background
The importance of the place, sthala, is an important feature of Tamil culture. The association of determinate sites with specific deities and mythic events laid the ground for the later development of devotional poetry.
Read more
The expression "singing of a place" refers to the impassioned verses of the poet-saints, the Shaiva nayanmars and  their Vaishnava counterpart, the alvars (7th to 9th cent.), who wandered through the Tamil land singing the praise of an aspect of either Shiva or Vishnu worshipped at a specific place.
Most of the sites celebrated by these poets survive to this day, and shrines still exist in the locations ascribed to them in the songs. From c the 14th century onwards, along with the hymns of the poet-saints, the narratives of the sthalapuranas, the legends connected with a specific site/temple, became an important part of Tamil religious and literary culture. This efflorescence of sacred literature inspired the artists and the visual rendering of individual shrines and murtis (images) became one of the main themes of South Indian painting.
The 108 Srivaishnava divyadeshams are the 108 Vishnu temples, sung in the hymns of the alvars. The majority of them are in today's Tamil Nadu. Outside the Tamil region, Kerala hosts the highest numbers of them. Some are in Andhra Pradesh and further afield in Gujarat, Uttar Pradesh, Uttarakhand. Two are beyond the earthly realm: Tiruparkkadal, the Ocean of Milk, and Vaikuntha, Vishnu's abode.
The 108 Srivaishnava divyadeshams have been a popular theme from the 16th– 17th  century onwards. Murals depicting all of them are still extant, albeit in a parlous state, in some temples e.g. the Varadarajaswamy temple at Kanchipuram, the Kallapiran temple at Srivaikuntham, and the Adinathaswamy at Alvar Tirunagari, the last two mentioned are both in Tirunelveli dst.  This tradition is still alive today: contemporary versions of the divyadeshams adorn the walls of the prakara of Vaishnava temples, such as the Kudal Alagar temple in Madurai and the Andal temple in Srivilliputtur. In each vignette, the temple, the mula murti (fixed image enshrined in the temple's sanctuary) and/or utsava murti (processional image) as well as the personalities mentioned in the pertinent sthalapurana are identified by labels. This arrangement enables the devotee to make a virtual pilgrimage and pay homage to all the various aspects of Vishnu revered in all the 108 divyadeshams, by visiting only one of them.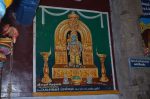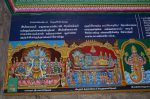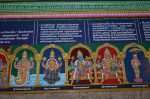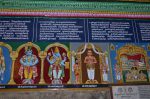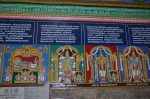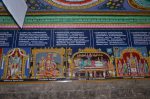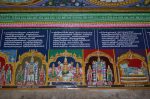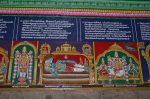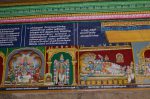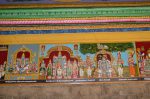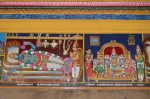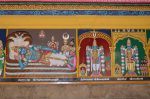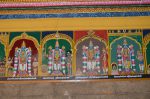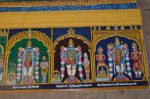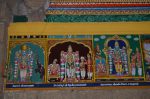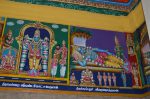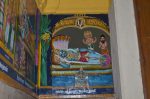 1
2
3
4
Next »