Historical background
Bodinayakkanur, picturesquely sited at the foot hills of Western Ghats in the Theni district, of Tamil Nadu, is a thriving market town where cardamom, coffee, tea, pepper, and silk-cotton are traded.
The zamindars of Bodinayakkanur Palayapattu, whose history goes back to the 14th century, claim to be the descendants of the mythical Kalaikottu Munivar, i.e. Rishyashringa maharishi. They belong to the Rajakambalam Nayakas, a Telugu speaking group who fled from the Bellary region, in present-day Karnataka State, when, in the early 14th century, the troops of Alauddin Khilji invaded that region. They migrated first to western Tami Nadu, then proceeded southwards and eventually settled in the area of Bodinayakkanur.
Read more
In the heart of the town is the palace of the Zamindar of Bodinayakkanur Palayapattu Zamin, built by Bangaru Tirumalai Bodi Nayaka (r. 1849 – 1862). The sprawling building, unfortunately in a sad state of disrepair, houses a generous-sized Darbar hall, the Lakshmi Vilasam, a large room used in bygone days as treasury, a gymnasium, a visitors' hall, stables for horses and elephants, and a granary.  At the death of Bangaru Tirumalai Bodi Nayaka in 1862, his heir Tirumalai Bodaiya Kamaraja Pandya Nayaka was a minor, so the British first took over the administration of the state and, in due course, its territory.
An extensive set of Ramayana paintings, dating of the mid-19th century, adorns the walls of the Lakshmi Vilasam and the Darbar hall. Above each scene is an explanatory caption in colloquial Tamil. The Balakanda narrative, from the beginning up to the departure of the four princely couples from Mithila is ingeniously laid out on the walls of the Lakshmi Vilasam. Particularly interesting are the scenes dealing with the nuptial rituals and the ceremonies, performed according to the Rajakambalam Nayakas traditions. A small shrine in this room houses a painting of the eight-armed family deity of the ruling family, Vadamalai Nachiammannai.
The rest of the narrative is illustrated in great detail on the walls of the Darbar Hall. The rendering of the Parashurama episode followed by the arrival of the newly wed couples in Ayodhya is, strangely enough, the sole episode painted on a portion of the Darbar Hall's ceiling. Episodes from the Yuddhakanda, such as Indrajit's sacrifice in Nikumbhila, as well as scenes of music and dance are found on the underside of the lobed arches supporting the hall's ceiling. Sadly a section of the murals depicting the Yuddhakanda, is lost.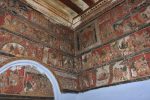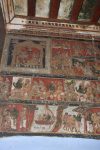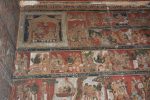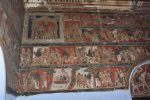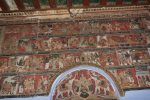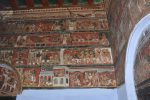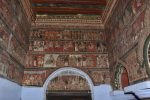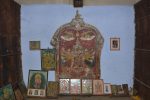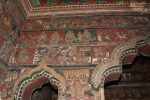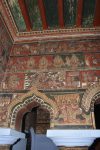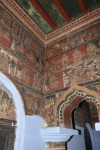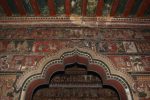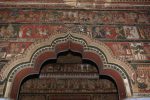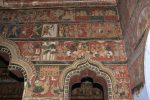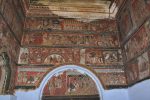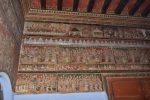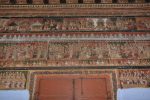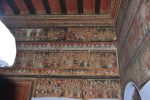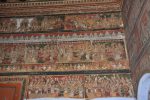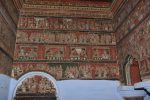 1
2
3
…
11
Next »