Historical background
The Nataraja temple at Chidambaram is the first and foremost among the 275 Shaivasthalams, or Shaiva holy places. The deity is worshipped here as Nataraja, Lord of the Dance, an aspect whose mythology, theology and iconography are intimately connected with the Tamil region. In the tenth century Nataraja became the patron deity of the Chola dynasty  (850-1290 CE), and since then Chidambaram has remained the focus of Shaiva worship and one of the major pilgrimage destinations in Tamil Nadu.
Read more
The temple, whose core dates probably from the Chola period, was subsequently enlarged by the Vijayanagara, Nayaka and Maratha dynasties, and more recently, in the 19th and early 20th century the Chettiars – a wealthy merchant community – were responsible for some major refurbishments. At the core of the temple are the Kanaka Sabha (Golden Hall) and the Chit Sabha (Hall of Consciousness) both of which appear in the paintings along with the more modest mulasthana, the seat of the 'original' linga.
Sited on the western side of the Shivaganga tank is the Shivakamasundari or Shivakami  shrine which houses Parvati. Parts of it are assigned to the late Chola period, the mandapa, or open pillared hall and its ceiling paintings belong to the 17th century Nayaka period.
The mandapa measures c 26 x 18 m and is divided into five bays by six rows of pillars. The central bay is the largest and is adorned by paintings of the late 20th century, replacing the old ones. Accommodated in the four remaining bays are three sets of paintings. The first is the story of the temple according to the 13th (?) century Chidambara Mahatmya and its Tamil version, the Koyil Puranam dating of the first half of the 14th century. This complex narrative is laid out in the two northernmost bays. The second story, laid out in the second bay from the south is drawn from the Chidambaram Puranam by the poet Tirumalainatan (1508). The paintings focus on the merits one acquires by having seen the image of Nataraja enshrined in the Chit Sabha, and celebrate the worship of Shiva. Of particular interest are the depictions of a number of Shaiva shrines in the region. The southernmost bay of the hall is devoted to the rendering of the life of Manikkavachakar, one of the great Shaiva poets and mystics who lived in the 9th century. After an eventful life he settled in Chidambaram where he is said to have merged into Shiva. A possible textual source for this set of paintings may be Katavunmamunivar's 15th (?) century Tiruvatavurar Puranam, in which the life of Manikkavachakar is narrated in great detail.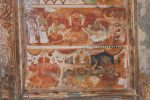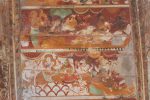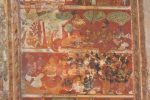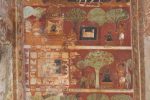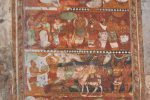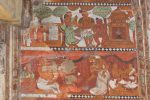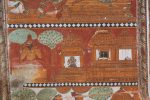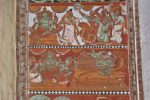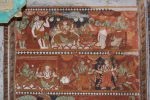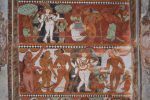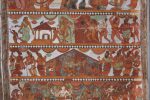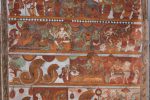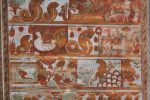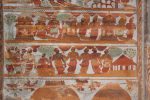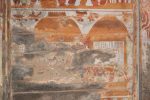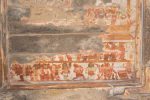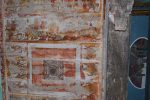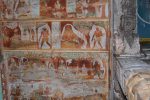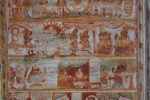 1
2
3
…
5
Next »